How much does it cost to have a composite door fitted?
Composite doors look modern and will quickly freshen up any style of home.
Simply choose the style and colour which suits you best!
But with so many options available, composite door prices do differ massively across the UK.
How much do composite doors cost?
Basically, this depends on what you want.
To have a standard composite door fitted by a professional installer (like us), you should expect to pay from £900.
If you want a specific colour, special type of glass or unique door furniture, the price will rise accordingly.
Why do composite door fitted prices differ so much?
There are 5 main factors which affect a composite doors price.
Colour: Standard colours (black, white, brown and blue) cost less because they're the most popular and produced on mass.
Door style: Again, the more popular it is, the cheaper the door. This is because the main manufacturers can mass produce them for much less.
Locks: Modern composite doors are designed to deter burglars and come with multi-point locks which can't be forced. But their quality (and cost) does vary. At Lincoln Windows, we only use Ultion locks, featuring a hidden firing pin which makes it impossible to prize apart.
Type of glass: If it's trickier to design, expect it to cost more. Stained glass is more expensive than frosted glass, which cost more than plain glazing.
Handles & furniture: Opting for a unique knocker, letterbox or handle will obviously increase how much the composite door costs.
The other thing to remember is that the cost of labour varies massively depending on where you live in the UK.
Benefit from free composite door advice
From our HQ in Lincoln, we travel to supply and fit composite doors in Lincoln, Grimsby Scunthorpe and Hull.
To get a FREE quote or receive some friendly advice, give us a call on 01522 500096 – we fit front and back composite doors.
If you'd prefer to send us some pictures of your door project, email [email protected] and we'll try to respond as soon as possible.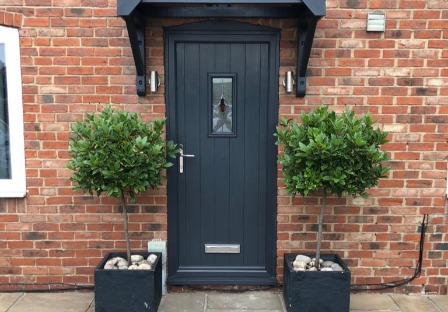 Very professional neat and tidy, very good work I have and will continue to recommend Lincoln Windows for any home improvement.

Mrs Lesley Richardson - Lincoln

Excellent service and professional double glazing installers in Lincoln. Will gladly recommend Lincoln Windows.

Mr Gardner - Lincolnshire

Lincoln Windows did a very good job, always cleaned up well after them.

Mr Horrace Johnson - Lincoln

Excellent service can't fault their work and professionalism.

Mr Steve Robinson - Lincoln

Really good sales, didn't push double glazing products, spoke for itself. Would recommend to friends and family.

Mrs Christine Fox - Lincolnshire