5 things to consider before you turn conservatory into an extension
Has your conservatory seen better days?
Is your conservatory looking tired?
Is it far too hot in Summer?
And too cold to use when Winter arrives?
At Lincoln Windows, these are common complaints we hear from our customers throughout the Lincolnshire region.
In this guide, we'll explain what to consider before turning your conservatory into an extension.
What will the space be used for?
Converting your conservatory into an extension will transform the way you live.
But before starting work, it's a good idea to know what you'll use it for…
Dining room
Lounge
Entertaining area
Play room
Home office
Whatever the reason, Lincoln Windows can design and build your dream space to your exact needs.
We have completed dozens of projects like this throughout the Lincolnshire region and will happily guide you through the design process, highlighting aspects you may wish to consider – such as interior spotlights and finishing touches.
Will I need planning permission?
If you want to convert an existing conservatory into an extension using a solid conservatory roof, Planning Permission is not usually required.
Before starting any work, we conduct a full design survey and secure any permits which are required under Building Regulations.
Should you need Planning Permission, we make the process stress free by applying for it on your behalf.
How much does a conservatory conversion cost?
At Lincoln Windows, each project is priced according to your individual requirements – so it's difficult to outline exact costs.
However, converting your conservatory into an extension type room is usually more cost effective than building a brick single-storey extension of the same size.
In our experience, it will definitely be much less disruptive!
When planning a project with Lincoln Windows, we'll advise you about potential costs upfront – and factor in small details you may not have considered.
We'll then compile a fixed-price quote to suit your needs – and budget.
What are the biggest benefits?
Converting a conservatory into an extension-type room will definitely improve your home – and the way you live.
Here's 10 of the BIGGEST reasons why you should consider it…
Easy to install
Transform inside and out
Extend conservatory's lifespan
Improved insulation
Attractive interior ceiling
Blend tiles with existing look
Feels like an extension
Useable all year round
Cheaper than a new build
Creates an amazing space
Get a free quote for a solid conservatory roof
We're proud to supply competitive quotes for conservatory conversions in Lincoln and the surrounding area.
Make an appointment today – email [email protected] or call 01522 500096 now!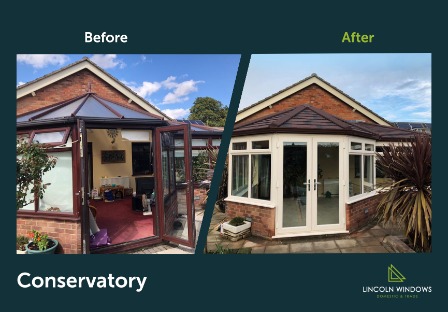 Very professional neat and tidy, very good work I have and will continue to recommend Lincoln Windows for any home improvement.

Mrs Lesley Richardson - Lincoln

Excellent service and professional double glazing installers in Lincoln. Will gladly recommend Lincoln Windows.

Mr Gardner - Lincolnshire

Lincoln Windows did a very good job, always cleaned up well after them.

Mr Horrace Johnson - Lincoln

Excellent service can't fault their work and professionalism.

Mr Steve Robinson - Lincoln

Really good sales, didn't push double glazing products, spoke for itself. Would recommend to friends and family.

Mrs Christine Fox - Lincolnshire